Anode Stacking Crane – ASC
Suitable for -40 … +50°C ambient temp.
Anode handling up to 22 anodes
Handling only horizontal anodes, only vertical anodes or both with the same grab
Handling anodes length-wise or cross-wise
NKM NOELL SPECIAL CRANES' ANODE STACKING CRANE
---
For the production of molten aluminium in an electrolysis pot, baked anodes are required.
To produce these baked anodes, a number of steps are required; among which baking green anodes in a ring pit furnace, where the anodes are loaded and unloaded by a Furnace Tending Assembly (FTA).
To ascertain sufficient supply, either from the paste plant to the bake furnace or back from the bake furnace to the rodding shop, an intermediate storage shall be incorporated, provided with 1 or more anode stacking cranes (ASC's)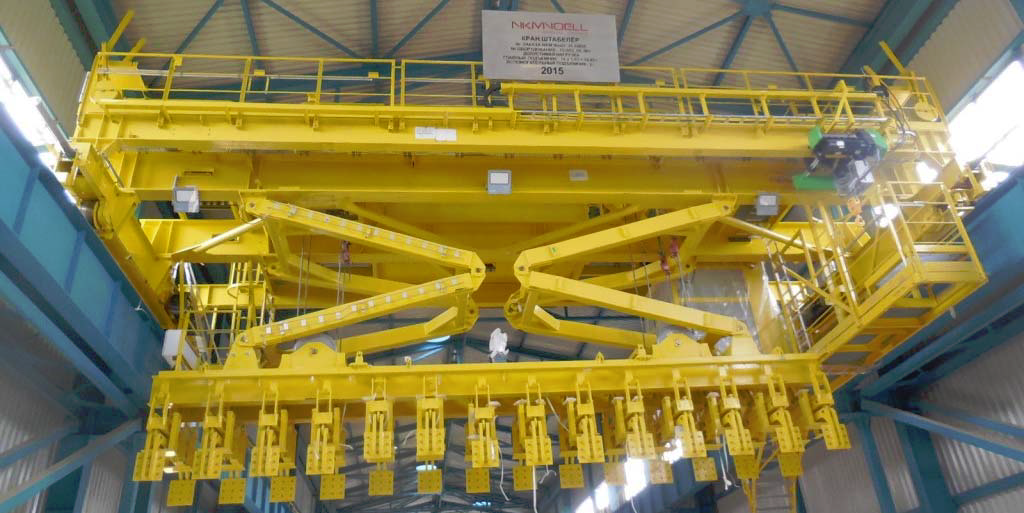 The ASC will carry out the following operations; not necessarily in the given sequence:
Taking bundles of green anodes from an incoming conveyor from the paste plant and storing them in storage or transferring them immediately to the outgoing conveyor to the bake furnace;
Taking bundles of green anodes from storage and transferring them to the outgoing conveyor to the bake furnace;
Taking bundles of baked anodes from an incoming conveyor from the bake furnace and storing them in storage or transferring them immediately to the outgoing conveyor to the rodding shop;
Taking bundles of baked anodes from storage and transferring them to the outgoing conveyor to the rodding shop;
Performing various lifting jobs i.e. handling of single anodes with a Single Anode Grab (SAG) *1 and auxiliary hoist;